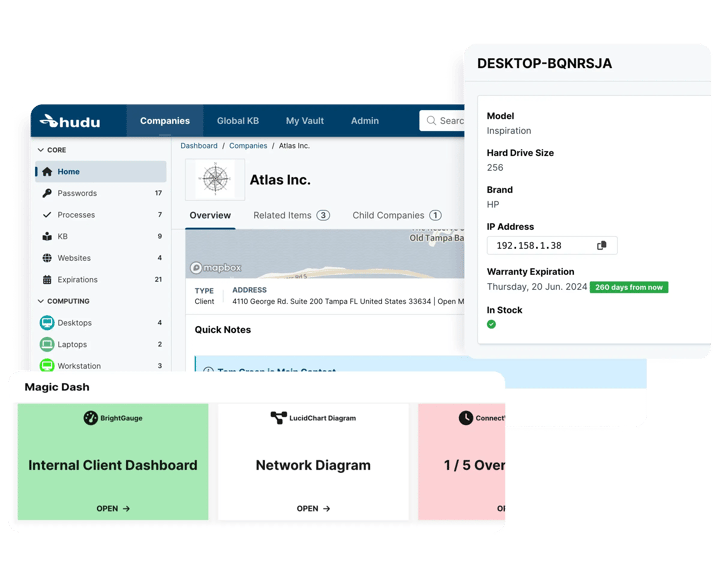 Scalable IT Documentation
Build a
Strong Foundation

for IT Management

Hudu helps thousands of companies worldwide achieve better results through stronger IT documentation.
Better Management Starts with Better Documentation
When teams have the organization necessary to deliver for users, everyone and everything works better.
Your Documentation Is
Our Success
Keeping IT documentation at the center of successful IT management is the Hudu way. So whether you're migrating from another tool or starting on your journey, we've got the features, resources, and service to help you. Because we truly care about our customers, our product, and our community.
An Integrated
Source of Truth
IT And MSP Management
Made Simple
Get the balance right for your organization, keep teams and customers happy, and grow more efficiently.
Scalable MSP Management
Hudu provides the source of truth for better management, the customization that customers need, and the structure that keeps staff working more efficiently. Hudu integrates with your PSA, RMM, and other tools you use to operate and manage.
Grow Your MSP
Strategic IT Support
Go beyond simply supporting the business. Document and deliver better ways of working. Proactively manage assets and build a culture of knowledge retention within your organization.
Strategically Improve IT
We
Love

to Hear It

"We've been using Hudu for our IT documentation needs since 2021, and it has truly transformed the way we manage our documentation and our client experience. We highly recommend Hudu to any organization looking to elevate their documentation game. "

"Our team has found a platform that really stimulates best practice with business documentation. Hudu makes it easy to keep all client documentation organized right across the business spectrum…it's just easier than other platforms."

"Standardization of processes drove our need for Hudu and in the end, the checklist feature and how we can assign checklists to any asset won us over. Hudu has certainly increased productivity and helped us adopt a culture of documenting. "

"Hudu IT documentation boasts an intuitive and user-friendly interface making it easy for both IT professionals and non-technical users to navigate and utilize the software effectively. It has comprehensive documentation abilities for all IT documentation."
"We have been very happy with the product, and how it keeps developing and adding features faster than anyone else. It's the one app our technicians love more than everything else we use."
"Hudu is an easy-to-use documentation tool that is inexpensive yet powerful. It is a flexible documentation tool without long term contracts. All the customer data techs require is in one place - structured, properly laid out and easy to work with. "
"Having client knowledge base is huge for an MSP and Hudu handles that all for us. We can share secure notes from there as well, give access with portals and create an internal knowledge base. "
"A cornerstone of our business. Thank you for making Hudu a solid dependable secure app."